Coomera Town Medical Centre - Business Administration Traineeship
Are you interested in a career in the medical field and eager to gain hands-on experience in a fast-paced medical practice?
Coomera Town Centre Medical is seeking A dedicated Administration Trainee to join their team. As a trainee, you will play a crucial role in ensuring the smooth operation of the practice, providing excellent customer service, and maintaining a professional and organized reception area.
Warmly welcome patients and visitors, creating a friendly and comfortable environment.
Answer incoming telephone calls and address inquiries efficiently and professionally.
Schedule appointments accurately, ensuring prompt and efficient management of the appointment calendar.
Assist patients in completing necessary forms and documentation, maintaining attention to detail and accuracy.
Keep the reception area clean, tidy, and organized, creating a calm and welcoming atmosphere for patients.
Uphold strict confidentiality guidelines, safeguarding patient information and maintaining privacy at all times.
Perform administrative tasks, including faxing, scanning, filing, and mailing documentation, ensuring efficient record-keeping.
Excellent communication and interpersonal skills, enabling effective interaction with patients, visitors, and colleagues.
Strong time management and organizational abilities, allowing you to handle multiple tasks and maintain appointment schedules.
Attention to detail and accuracy, ensuring thoroughness in completing forms and maintaining documentation.
Professional demeanor and ability to maintain composure in a fast-paced medical practice.
Respect for patient confidentiality, adhering to privacy regulations and maintaining the highest ethical standards.
Familiarity with basic administrative tasks, such as faxing, scanning, filing, and mailing documentation.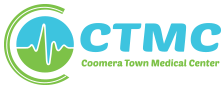 This traineeship offers a valuable opportunity to gain practical experience and develop essential skills in the medical field.
Join Coomera Town Centre Medical and become an integral part of a dedicated healthcare team. Work alongside experienced professionals, contribute to delivering exceptional patient care, and build a solid foundation for your future in the medical industry.